Bhel Puri – a crunchy, flavorful chaat, is one of the most popular street foods in Pakistan and India. This delicious snack is low in calories but packed with zesty flavors and crunchy textures. A traditional bhel puri is made with a variety of ingredients, one of them being the puri (deep fried crackers) which adds the crunch and also serves the purpose of a spoon to enjoy the chaat. We added a twist to the traditional recipe by replacing Puri with Biscuits (Crackers) and we have the Biscuit Bhel
Bhel means mixture and Bhel puri is all about textures. While a chaat generally has two or three basic ingredients, bhel-puri has a lot more ingredients which includes puffed rice, sev, crumbled puri, onions, potatoes, three different chutneys and anything you would want in your chaat.
I was first introduced to this delicious snack in my childhood when a restaurant Lahore Chatkhara opened up in Lahore that served a variety of popular street foods. Our favorites on the menu were papdi chaat, dahi puri and bhel puri. My sisters and I used to choose one dish each as per our liking and totally did not share with one another (because it was soo good, lol) okay, no we did share because the portions served were generous and we were kids then. But Bhel Puri always was part of our order every time we went there and is still a favorite.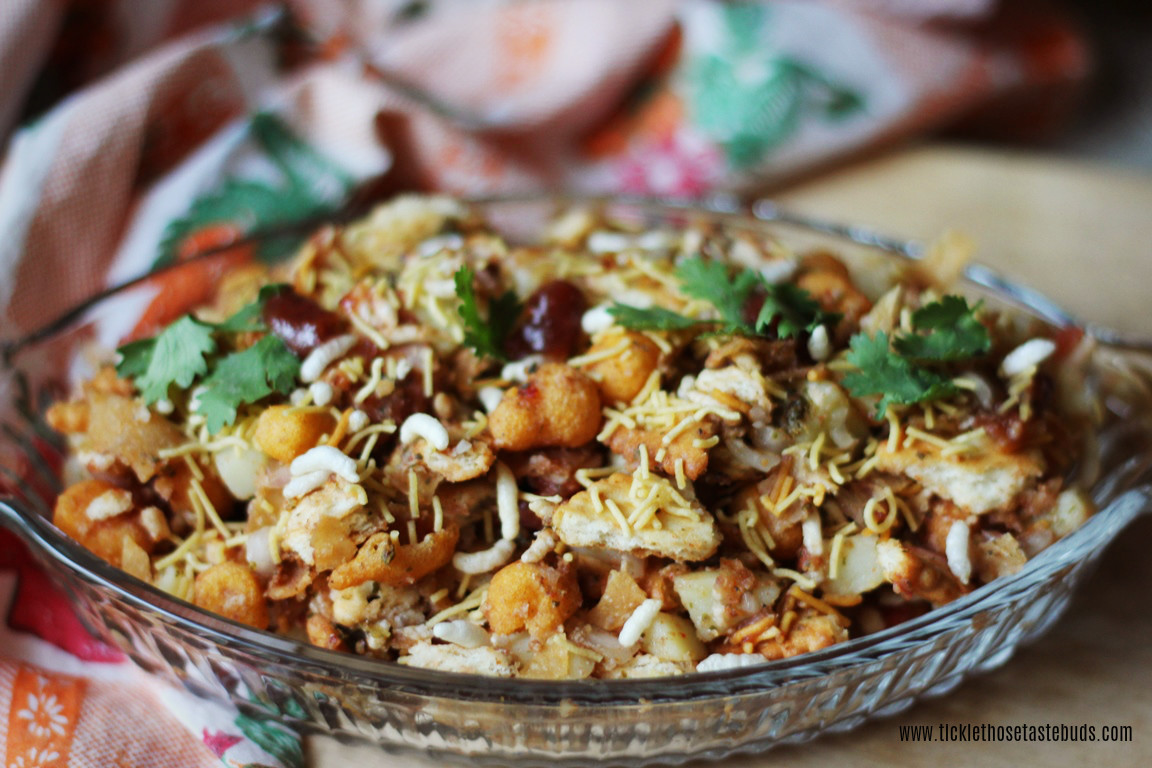 Replacing puri with biscuits (crackers) in Biscuit Bhel does not change the flavors of the chaat at all. It saves you from preparing those deep fried puris, unless you're getting pre-made puris from the store. You can easily prepare this quick and jhat pat recipe in 10 minutes. It's super easy, you can use the list of ingredients shared below and can add more as per your taste palate and liking. I do suggest using the ingredients mentioned because these are the basic ingredients for the dish but feel free to adjust as per your taste.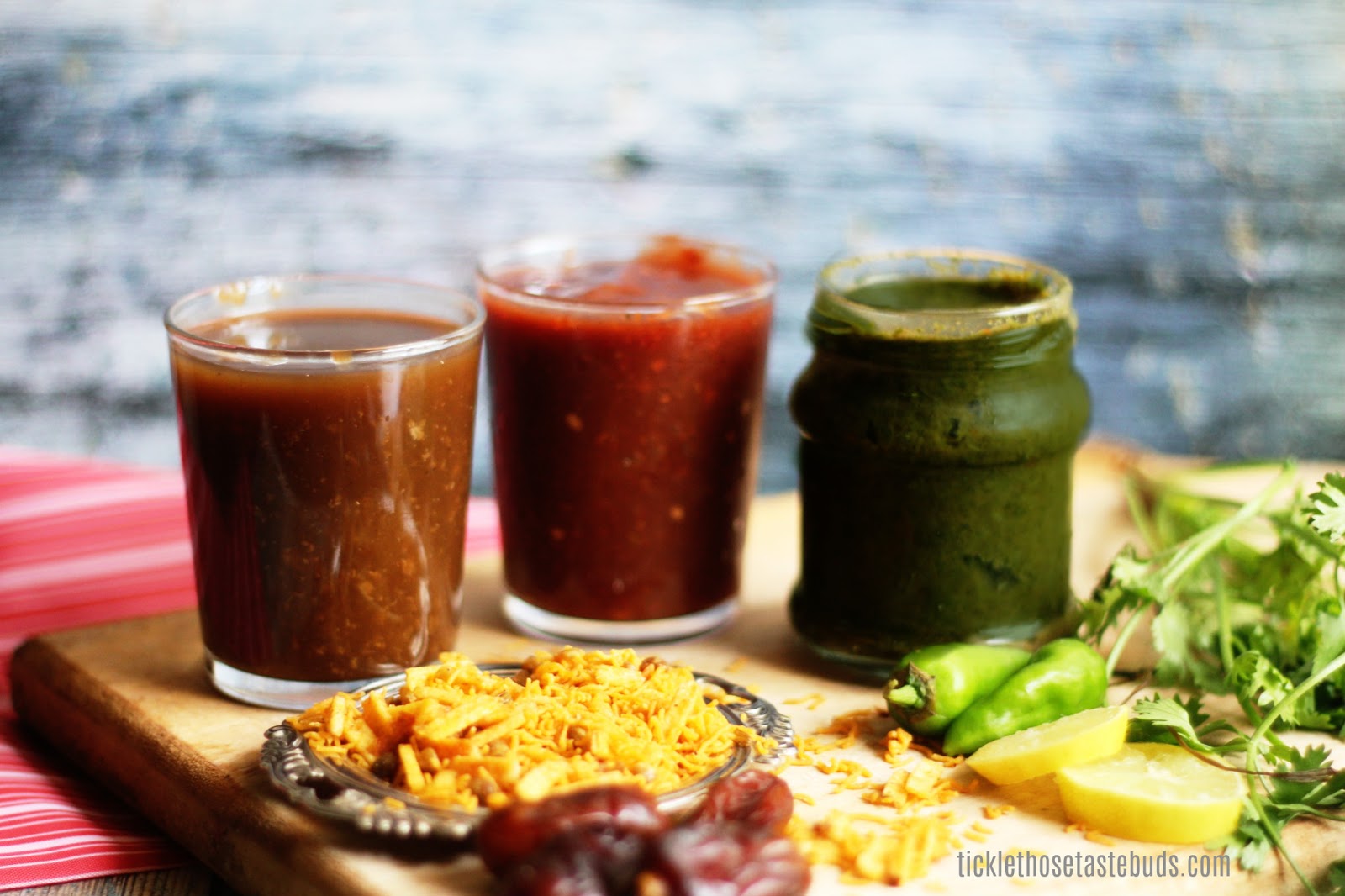 The star ingredients of this chaat are the three must-have chutneys that give this chaat that sweet, spicy, tangy and chatpata flavor. As bhel puri and this biscuit bhel is all about texture – the crispy puffed rice, soft but firm boiled potatoes, crunchy crackers (biscuits), crisp sev, sweet and spicy chutneys and small pieces of onions that squish as you bite into them (salivating??), all these together make this chaat/snack/street food a favorite and oh so delicious!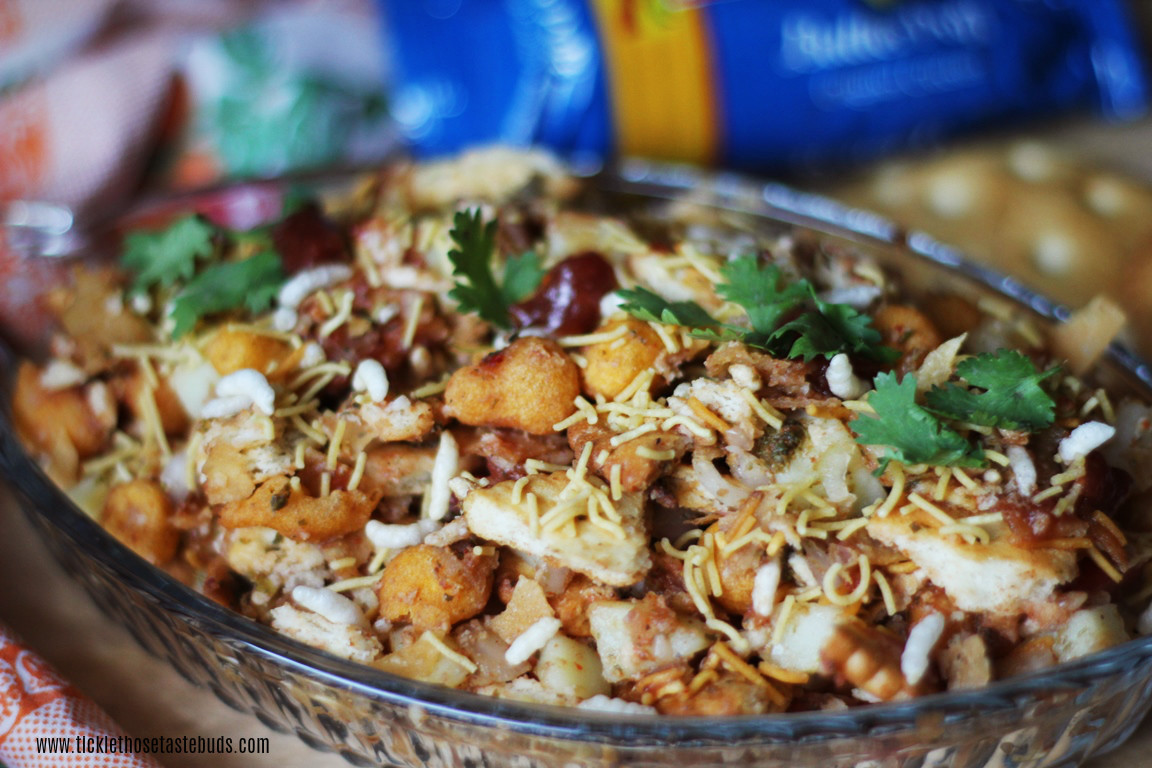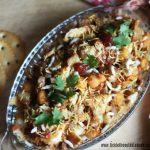 Print Recipe
Biscuit Bhel (Bhel Puri with a Twist)
Biscuit Bhel – a sweet and spicy snack chaat of puffed rice, sev, vegetables and chutneys with a twist of cracker (biscuits)
Ingredients
1

Cup

Puffed Rice

1

Cup

Spiced Boondi

1/2

Cup

Onion

(finely chopped)

1/2

Cup

Potato

(boiled and diced)

2

Green Chilies

(finely chopped)

12

Crackers

(biscuits)

1/2

Tbsp

Chaat Masala

2

Tbsp

Green Chutney

2

Tbsp

Tamarind Date Chutney

2

Tbsp

Imli Chutney

(Tamarind Chutney)

3

Tbsp

Sev for garnish

Fresh Corriander for garnish
Instructions
In a large bowl add boiled potatoes, onions, green chilies and crackers. Top these with the chutneys and mix well.

Now add spiced boondi, puffed rice and toss everything together

Garnish with fresh corriander, sev, some chopped onion and chaat masala
Notes
Biscuit Bhel is supposed to be crunchy, so don't prepare in advance as the ingredients will become soggy. So prepare fresh to keep it crunchy. You can also add roasted peanuts too If you plan to make it, stock up on sev and puffed rice. Make the chutneys in advance to save time.