Chicken Cheese Balls are a deliciously addictive snack and a tasty appetizer. These are so easy to make and taste delicious. The chicken cheese balls with shredded chicken, mashed potatoes and cheese are shaped like a ball, crumbed and deep-fried for that beautiful crispy golden crust and a soft cheesy centre. These go off the plate real quick, so you better make a big batch – everyone loves them.
This recipe of Chicken Cheese Balls is from my mother. It brings back so many memories as I am writing it down today. The most beautiful of all the memories that I associate with this recipe is of Ramadan. Fried food items are a must-have on the iftar menu and my mother was always creative when it came to preparing iftar (evening meal to break the fast) for the family. This was one of her dishes that she used to make quite often for iftar and my family absolutely loved these.
My sisters and I would always ask our mother to make these delicious, cheesy golden chicken balls for any get-together, birthday, iftar or just to satisfy our cravings. Try this recipe and you would know what I am talking about.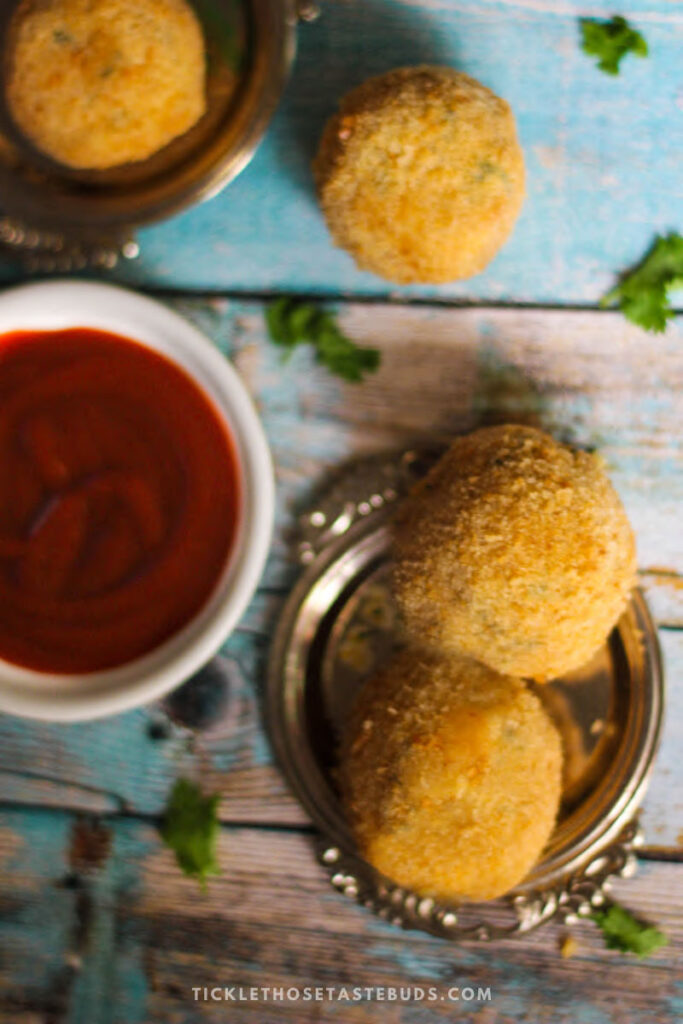 Chicken Cheese Balls Recipe
The chicken cheese balls are a delicious treat. The crispy, golden coating and fluffy cheesy centre make them a crowd favourite. The recipe is kid-friendly, makes a great snack or an appetizer and the best thing is you can easily customize it too.
For this recipe, it would be ideal to make a big batch and freeze to be used later because once you start eating these insanely addictive chicken cheese balls it's hard to stop. We like our chicken cheese balls with shredded chicken and a bit of spice but you can totally use leftovers in this recipe, leftover chicken or veggies, give your own unique twist and enjoy.
These can be served as a snack or a side dish with any pasta or main dish. Check out more ideas below.
My mother's chicken cheese balls recipe is a favourite among family and friends. This recipe is her classic version that we all love and hope it becomes a regular at your home too.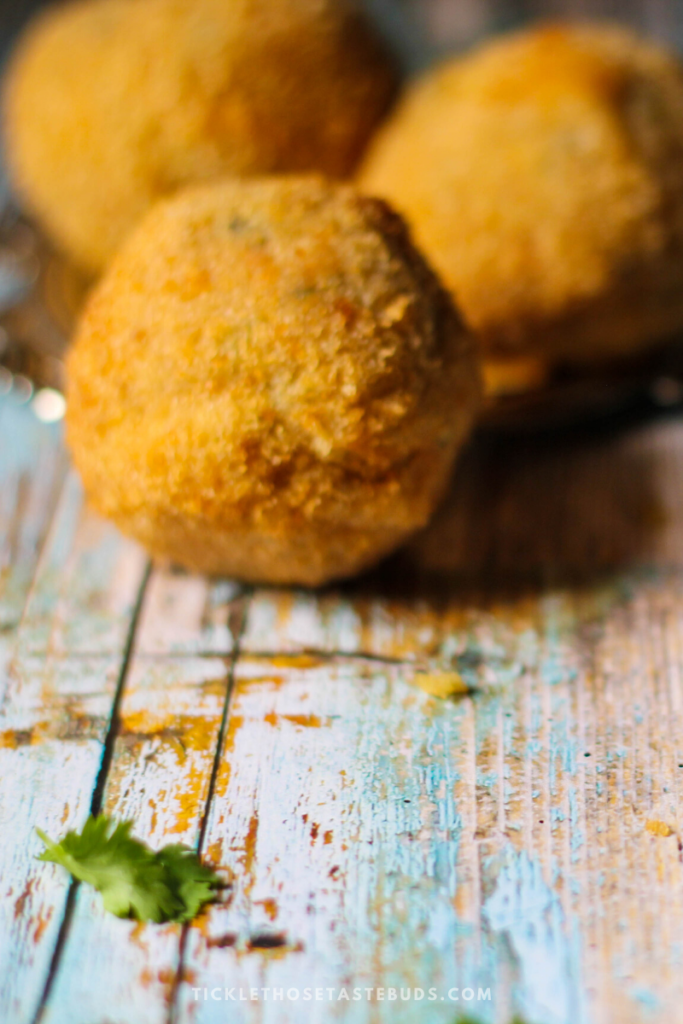 Ingredients to make Chicken Cheese Balls
Chicken – boiled and shredded chicken. I have used approx. 2 chicken breasts and boiled them in 1 1/2 cups of water and then shredded. You can use any left-over chicken too.
Potatoes – peel, cube and boil potatoes to make fresh mashed potatoes
Eggs – hardboiled eggs, mashed for added creaminess.
Cheese – cheddar cheese for that cheesy centre, you can use any pizza cheese or mozzarella cheese.
Seasoning – salt and pepper, however, I have used green chillies, red chilli powder, white pepper and mustard paste for a kick of spice and flavour.
Flour – for binding it all together and also for coating
Whisked Eggs – for coating
Breadcrumbs – to coat for that crispy, golden crust
Vegetable Oil – for frying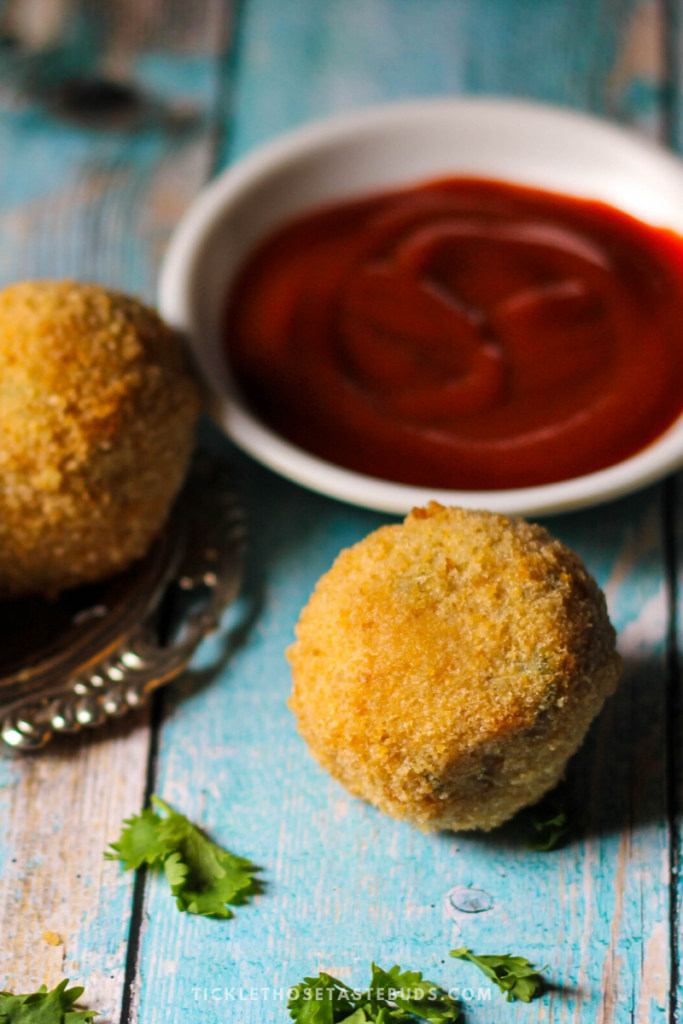 Tips to make Perfect Chicken Cheese Balls
Make sure all the boiled and mashed ingredients are completely cool before you start making the balls.
Use a cookie scoop or take consistent amount to evenly portion the chicken cheese balls. roll them between your palms until smooth. If the mixture is sticking, lightly dust your hands with flour.
Once all the chicken balls are made, refrigerate for 15-minutes before coating
For that crispy, golden crust make sure the oil is heated at optimum frying temperature.
Deep-fry in enough oil that covers the chicken balls at least half. Don't overcrowd the pan when frying
If you enjoy my recipes, I'd love for you to subscribe to my YouTube channel for Video Recipes
More Recipes to Enjoy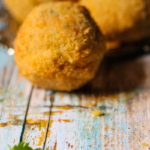 Print Recipe
Chicken Cheese Balls
Chicken Cheese Balls! These crispy on the outside and fluffy and cheesy on the inside, crunchy golden balls are an easy, tasty and deliciously addictive snack
Servings:
15
chicken balls
Ingredients
2

Cups

Chicken

(boiled and shredded. approx. 2 chicken breasts)

2-3

Medium Potatoes

(boiled and mashed)

2

Eggs

(boiled and mashed)

2-3

Green Chilies

(chopped finely)

1

tsp

Red Chili Powder

1

tsp

Black Pepper Powder

1/4

tsp

White Pepper Powder

1/2

tsp

Salt

(or to taste)

1/2

tsp

Mustard Paste

2

Tbsp

Cornflour

3/4

Cup

Cheddar Cheese

(grated)

2

Eggs

1

Cup

Flour for coating

2

Cups

Bread Crumbs for coating

Oil for frying
Instructions
Mix together chicken, mashed potatoes and mashed eggs

Mix in all the seasoning along with cheese, green chillies and cornflour, until well combined

Using a cookie scoop, or roughly take 2 tablespoon of mixture. Roll it betweeb your palms to make smooth balls.

Dredge the chciken balls into flour, dip in egg and roll in breadcrumbs. Then again in egg and bread crumbs. Refrigerate for 10-15 minutes.

Heat oil over medium heat, about 2-inch deep to cover the balls halfway at least.

Gently add the chicken cheese balls into the oil. Don't overcrowd the pan. Fry the balls until golden turning once or twice.

Using a slotted spoon remove from oil and drain on kitchen paper. Serve immediately with your favourite dipping sauce.
Notes
To Bake – You can bake these chicken cheese instead for frying. simply spray them generously with cooking spray. Place them on a baking tray and bake for 15 minutes at 400 degrees F until golden and crispy.
To Make-ahead – Make the chicken cheese balls ahead of time and keep in the fridge. Cover with plastic until ready to fry. It can stay in the fridge for up to 3 days.
To Freeze – You can freeze the chicken cheese balls either before coating or after coating. After coating in egg, flour and breadcrumbs place them in a dish and freeze until firm. Transfer into a ziplock bag. when ready to eat simply take out and fry in hot oil. don't thaw. If freezing before coating, after taking out from freezer coat with flour, egg and breadcrumbs and fry.
To Re-heat – These can easily be reheated in the oven. Place them on a baking sheet lined with parchment paper and bake at 400 degrees F for 10 minutes. Do not reheat using the microwave.
Add More Cheese – To add a little more cheese, Take about 1-2 Tbsp of the chicken cheese ball mixture and spread it on your palm. Place a cube of mozzarella cheese in the centre and roll it into a ball, coat and fry
To customize – You can add in your favourite ingredients, swap shredded chicken, for chicken mince, add in vegetables or mushrooms. For a gluten-free version use gluten-free flour and breadcrumbs. For a vegetarian version skip the chicken and make potato cheese balls throw in your favourite vegetables.
For Your Pinning Pleasure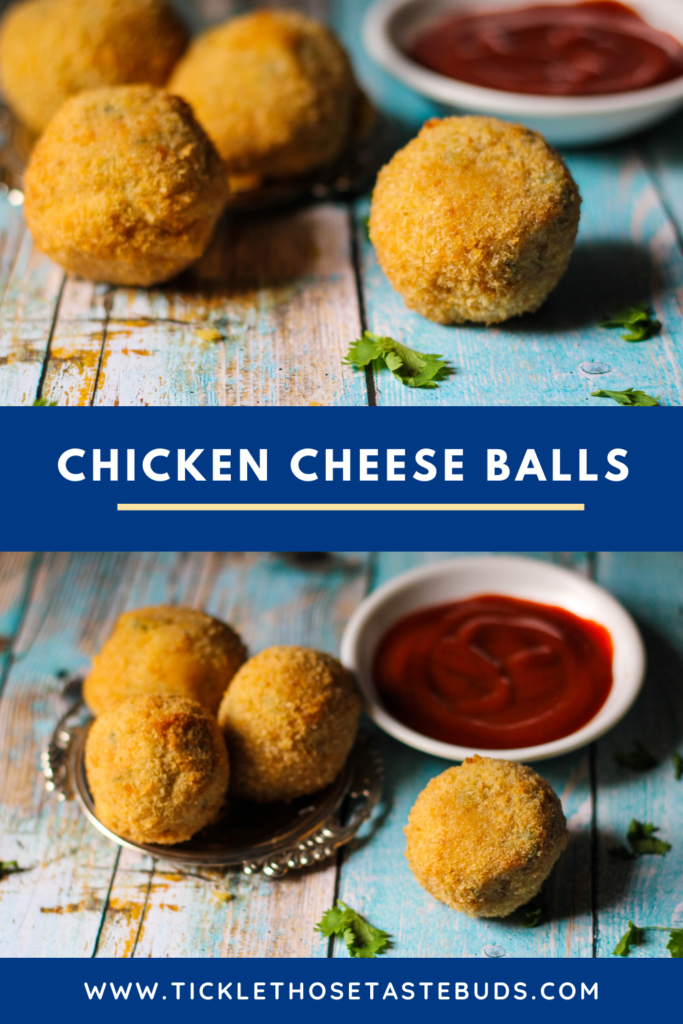 Update Notes: This post was originally published on June 11, 2016, but was republished with new photos, tips and instructions in April of 2020