Every day the same question pops up "What to make for Lunch today?" and when the same question is asked on a weekend the response has to be something that's not the usual and really delicious.
What better way to spice up the weekend lunch than with a Chicken Paratha Roll (Pakistani Flatbread Wrap) stuffed with flavorful chicken, pickled veggies and spicy chutneys. The best thing about it is, that its a wholesome meal and can be prepared with leftover chicken too. Its as simple as assembling it all together (if that makes sense)
For this recipe, I've made the Paratha (Flatbread) myself but you can always use store bought frozen paratha in case you don't feel like making your own and keeping it all quick and simple.
As with all wraps, you can use filling of your choice. For me it had to be this spicy chicken cubes, with chutneys and pickled onions that were wrapped in the paratha roll and gave those zesty, zingy and spicy flavors that were sure to tickle those tastebuds!
If you have any other Paratha Roll recipe or if you try this recipe please share in comments below or send us a picture or our Facebook Page (here) print recipe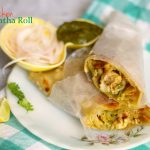 Print Recipe
Chicken Paratha Roll (Pakistani Flatbread Chicken Wraps)
Chicken Paratha roll, spicy chicken with tongue tickling chutneys and pickled onions wrapped in a paratha, is a treat to the taste buds!
Ingredients
For Chicken
3

– 4 Chicken Fillets

(cut into cubes)

1

tsp

Salt

(or to taste)

1/2

tsp

Garam Masala

1/2

tsp

Turmeric Powder

1

tsp

Red Chili Powder

(or to taste)

1

Tbsp

White Vinegar

1

Cup

Yogurt

1/4

tsp

Black Pepper

1

tsp

Ginger Garlic Paste

4

Tbsp

oil
For Paratha Dough
1

Cup

wholewheat flour

1

Cup

Flour

1/4

tsp

Salt

2

Tbsp

Ghee

Water as required

(for making the dough)
For Base Chutney
4

Tbsp

Mayonnaise

(or as required)

2

Tbsp

Chili Garlic Sauce or Tomato Ketchup
For Pickled Veggies
1

Onion

(Medium (thinly sliced))

1

Cucumber

(thinly sliced and seeds removed)

1

Cup

vinegar

(divided)
Instructions
For Chicken: Marinate the Chicken in above mentioned ingredients, except Oil for 15- 20 minutes. Then in a pan add oil and the marinated chicken and cook it on medium-low heat until chicken is tender and the water dries

For Paratha Dough: Mix both flours, salt and ghee. Knead it into a dough, add water as required. Keep aside for half hour. Prepare the paratha, like a regular paratha.

For Green Chutney: Follow the instructions in link above. Chutney should be thick in consistency

For Base Sauce: In a small bowl mix mayonnaise and ketchup together

For Pickles: In a bowl add half vinegar and onion slices. In another bowl add other half of vinegar and cucumber slices. Keep them dipped for 20 minutes at least.

For Assembling: On the base of the paratha apply the prepared base sauce. In the center, place the chicken pieces horizontally, add the green chutney on the chicken pieces. Top it with pickled cucumbers and onion slices. Make a roll of the paratha and cover half of it with foil paper so that it stays intact. Serve with Green chutney or ketchup.
Notes
To give the chicken smoked BBQ effect. Heat a coal on a burner. Take a piece of bread or chappati, put it in the middle of the chicken pan. Place the coal on it and drizzle a few drops of oil. Cover the pan with the lid for 10 minutes. Remove the coal. The chicken will now have smoked taste.