I'm back on the blog with yet another recipe that will tantalize and tickle those tastebuds for sure. As promised here it is the recipe of the very famous Chicken Manchurian.
Before I go on with the recipe, I'll share where I've been all this time. Well, I got busy with a few projects which initially started out as personal projects but then became client projects (for which I'm really glad and thankful). So at first, it was my little sister's birthday and she wanted a Golden Themed Princess Birthday and we decided to give her a surprise birthday party, there was a lot of work and this is what we came up with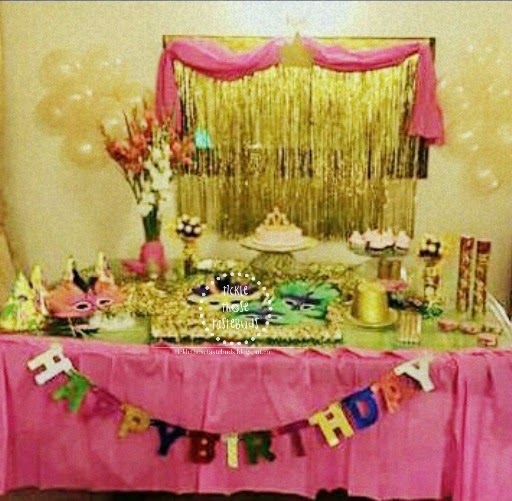 She was really happy and appreciated our efforts 😀 it made us all so happy, you know sister love. From here it all got busy. Do you notice those chocolate bouquets on the table? Yes, I made those and those little beauties brought me clients. Till now I had been busy with client orders and had fun making these beauties.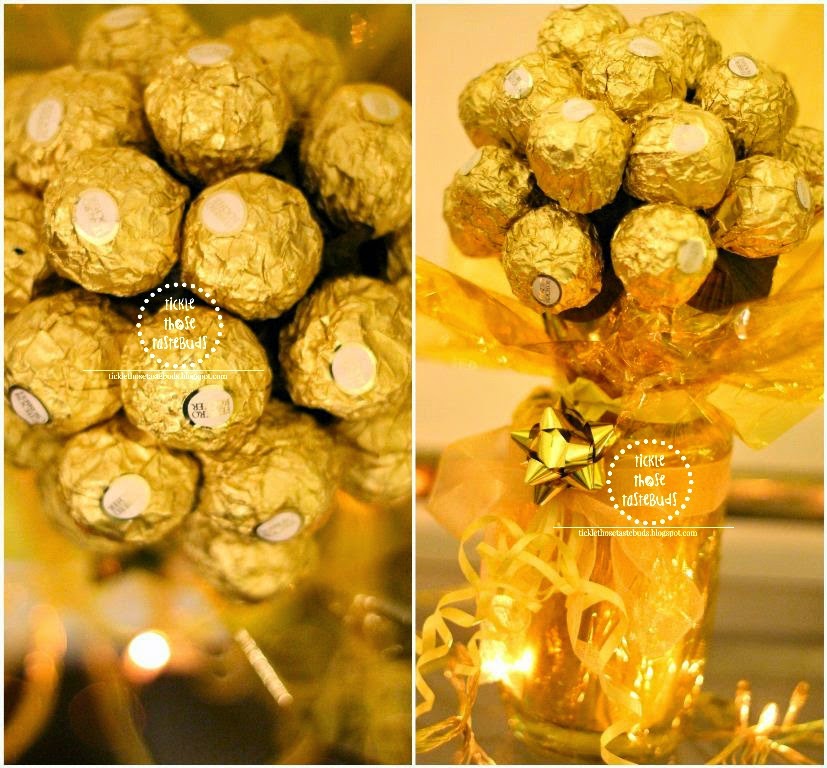 So, it has been all about happiness, love, sharing smiles and all things good. Continuing with the month of love, I thought of sharing the recipe of Chicken Manchurian, since its all red 😛 and btw, Chicken Manchurian did not originate from China, the Chinese won't even be aware of its existence, but this dish has become a famous Chinese dish in both Pakistan and India and can be found on the menu of every Chinese Restaurant of the country.
Question is, then where did it originate from? Well, this dish came into existence out of a cooking experiment of Nelsan Wang, a restaurateur from Mumbai in 1975. The dish came into existence when Nelsan, working in a small hotel heard that Taj Hotel in Mumbai, has brought on board chefs from Sichuan and has opened a genuine Sichuan Restaurant, because Indians wanted Spicy Chinese Food. It was then, when his customers began to ask for spicy Chinese food and he came up with the idea of this dish that had some fried ingredient since Indians are fond of fried foods and created sauce with a fusion of Indian spices and Chinese seasonings. The name Chicken Manchurian came out as a joke name as Manchurian in China means 'mad', since he made up this dish so he gave it this name. Interesting, isn't it? 🙂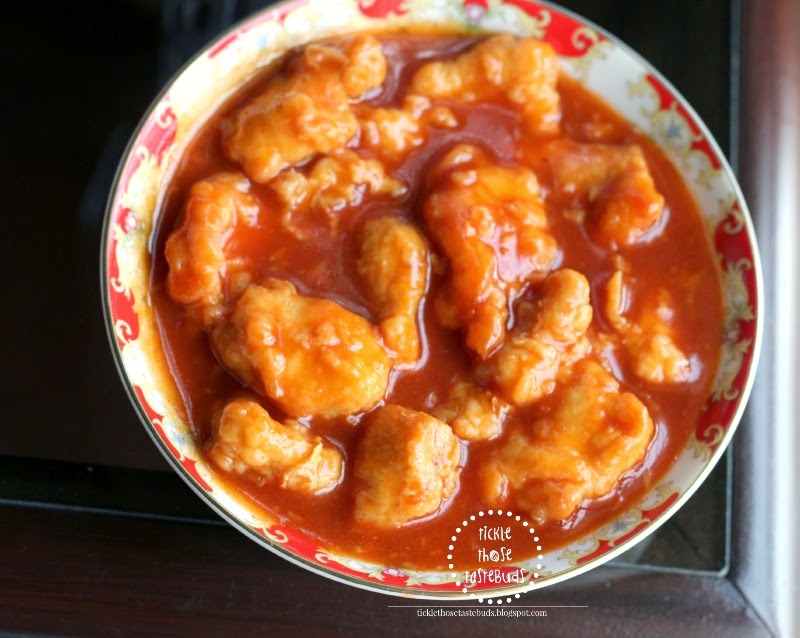 Many variations of Manchurian have sprung up since its existence, there is Gobi Manchurian (Cauliflower Manchurian), Seafood Manchurian, Paneer Manchurian (Cottage Cheese Manchurian), Chicken and Vegetables Manchurian, all have their own unique tastes.
This Chicken Manchurian recipe is an all time favorite. Whenever Chinese meal is being prepared at my home, this is a must dish on the menu and even in restaurants too, we order this the most and I just love the sizzling sound of it on the hot plate. I remember, as kids me and my sister would impatiently wait for our order just to hear and enjoy that sizzling sound (good childhood memories). This one is as easy as my other recipes and you can serve it up with gravy or dry, we like it with gravy at my home so this one is with gravy.
For my veggie friends do check out the notes section of the recipe for a veggie variation. Also, if you have a different Manchurian recipe do share by commenting below. Try this recipe too and share its picture with me on my Facebook Page.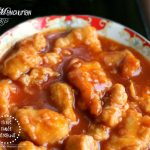 Print Recipe
Chicken Manchurian
Batter fried, golden chicken pieces in a hot and peppery sauce
Ingredients
Chicken Batter
1/2

Kg

1lb Boneless Chicken, diced into 1 inch pieces

2

Tbsp

Flour

1

Tbsp

Corn-Flour

1/4

tsp

Baking Powder

1/4

tsp

Salt

1

Egg

Oil for deep frying
Chili Sauce
1/2

Cup

White Vinegar

1

tsp

Chinese Salt

(optional)

3

tsp

Sugar

1

tsp

Salt

2

tsp

Red Chili Powder
Manchurian Gravy
3/4

Cup

Chicken Stock

1

Cup

Tomato Ketchup

5

Garlic Cloves

(roughly chopped)

1 1/2

tsp

Red Chili Powder

1

tsp

Salt

2

tsp

Sugar

2

tsp

Chinese Salt

1

tsp

Soy Sauce

1

Tbsp

Oil

Chili Sauce

(prepared or store bought)
Instructions
In a prepping bowl mix together the ingredients of Chicken Batter, add the chicken pieces and let marinate for 15-20 minutes

Meanwhile, in a small sauce pan prepare the chili sauce, by adding all the ingredients. Mix well and let cook until the sugar dissolves completely

In a pan heat oil over medium-high flame. Add the chicken pieces, working in batches fry until crisp, golden and cooked through. Remove from oil and transfer to a paper towel lined plate to drain excess oil and keep warm until needed

In a pan add 1 Tbsp Oil and stir fry chopped garlic until fragrant. Add the fried chicken pieces to it along with all the sauces. Cook for about 1-2 minutes and add chicken stock, bring to a boil and then add tomato ketchup. Mix well, taste check and adjust seasoning. Bring to a boil and let simmer for sometime. The sauce will thicken on its own

Dish out on the hot plate or serving dish

Serve with steamed rice,vegetable fried rice or pasta
Notes
I don't use cornflour and water paste to thicken the sauce. If your sauce isn't thickening you can add more tomato ketchup and adjust seasoning accordingly or you can add 1 Tbsp cornflour+ 1/4 Cup water mixture to thicken your sauce to desired consistency If you don't want deep fried chicken, you can simply stir fry it Veggie Version: use Cauliflower florets instead of chicken, you can avoid egg and instead make a thin batter of all the batter ingredients mentioned, dredge the florets in it and deep fry. For the sauce, use vegetable stock instead of chicken stock