Chicken Manchurian a popular Indo-Chinese dish with golden-fried chicken in a hot and peppery, a little sweet and tangy sauce
If you love Chinese food as much as we do, you would love this classic, easy to make-at-home recipe for Chicken Manchurian.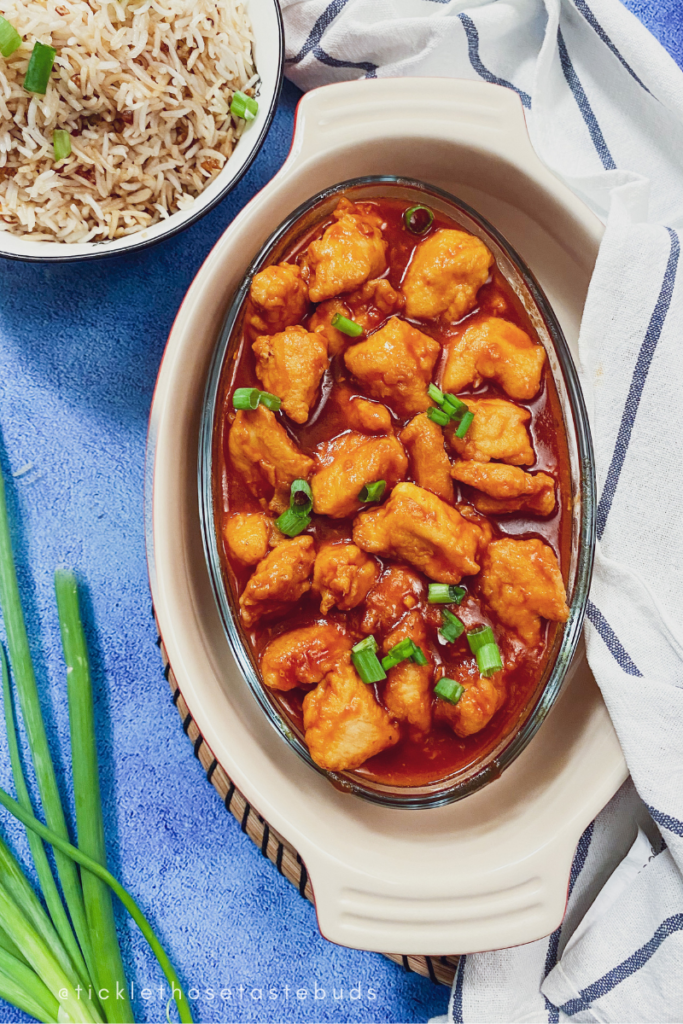 About Chicken Manchurian
This dish popular across Chinese restaurants in Pakistan and India is a restaurant favourite. However, Chicken Manchurian did not originate from China and is not from Chinese cuisine. Interestingly though, Chicken Manchurian is almost unknown outside Indian and Pakistan and most certainly not heard of in China.
The question therefore is, where did it originate from? Well, this dish came into existence out of a cooking experiment of Nelsan Wang, a restaurateur from Mumbai in 1975.
It came about as an attempt to improvise the menu to meet the restaurant patrons' demand for spicy Chinese food. Knowing that Indians love deep-fried foods and spicy sauces. The restauranter created a fusion sauce by combining Indian spices and Chinese sauces and added deep-fried chicken to it, and a new dish came into existence. It was an instant success.
The name came out as a joke. The word Manchurian is adapted from Manchau in China that means 'mad'. As this was an impulse creation, hence the name Chicken Manchurian.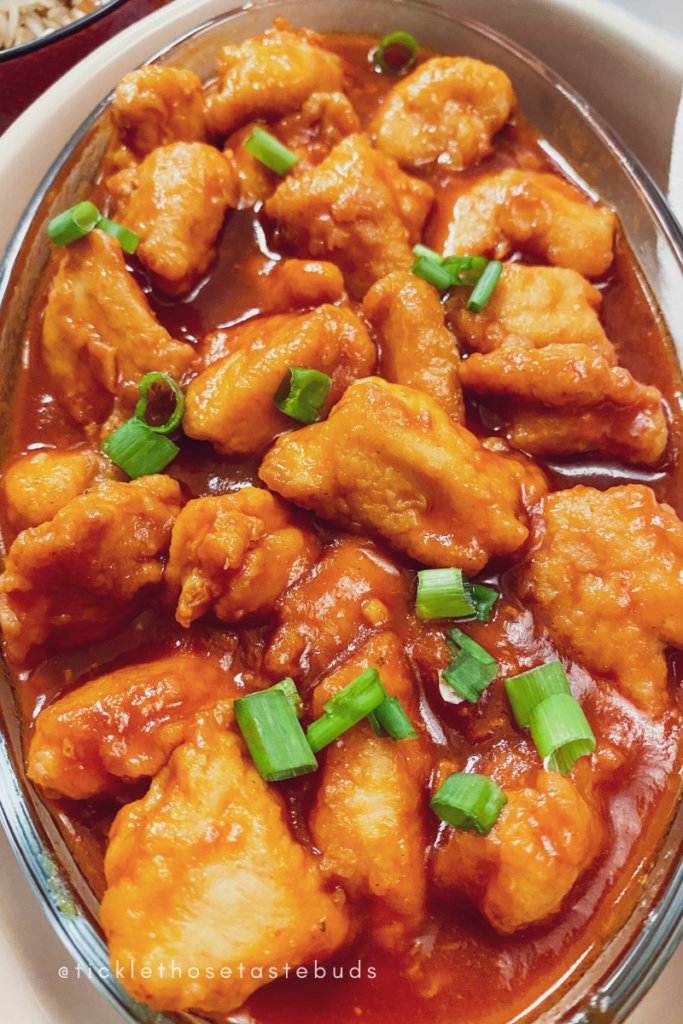 Chicken Manchurian Recipe
This recipe is an all-time favourite. The recipe is fairly simple and comes together in no time at all. The flavours are as authentic as any restaurant style Chicken Manchurian.
Whenever we make a Chinese fakeaway meal at home, chicken Manchurian is always on the table. For us, it is also that one must-order dish at the Chinese restaurant too. At restaurants, it served on the sizzling hot plate. I just love the sizzling sound it makes on the hot plate. I remember as kids my sister and I would impatiently wait for our order just to enjoy that sizzling sound (good childhood memories).
How to Make Chicken Manchurian
Marinate the Chicken: Combine together flour, cornflour, egg, baking powder and salt. Marinate the chicken in the prepared batter. You can also use store-bought popcorn chicken and skip this step.
Deep Fry Chicken: Deep fry the chicken on medium heat until golden and crisp. set aside.
Prepare the Chili Sauce: In a saucepan add all the ingredients for chilli sauce. Mix together until sugar dissolves completely. Keep aside. You can also use store-bought chilli sauce like Sambal Olek for the recipe.
Manchurian Gravy: In a pan add 1 Tbsp Oil and stir fry chopped garlic until fragrant. Add the fried chicken pieces to it along with all the sauces. Cook for about 1-2 minutes and add chicken stock, bring to a boil and then add tomato ketchup. Mix well, taste check and adjust seasoning. Bring to a boil and let simmer for some time. The sauce will thicken on its own
Serve: Serve with rice or noodles.
Serving Suggestions
Chicken Manchurian can be made saucy and served as an entrée with rice or noodles. Or it can be made dry as a stir fry dish and served as a delicious appetizer.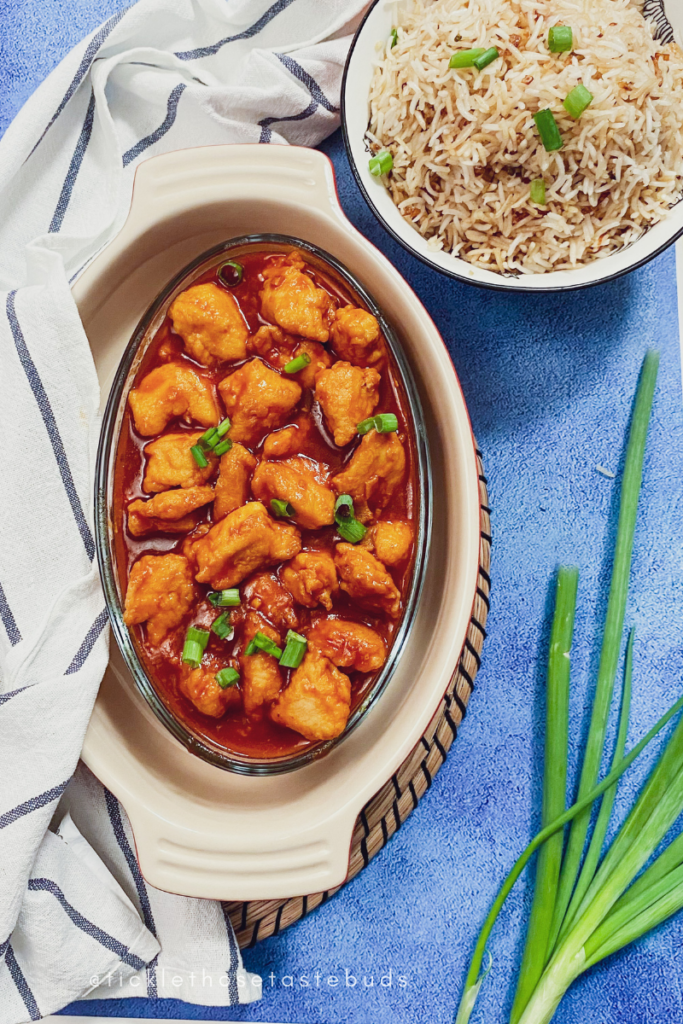 Chicken Manchurian Variations
The popularity of the dish led to the creation of many variations using the Manchurian technique. Each variation has its unique taste. Most popular of variations include:
Gobi Manchurian (Cauliflower Manchurian) – Fried cauliflower florets in Manchurian sauce
Paneer Manchurian (Cottage Cheese Manchurian) – Fried cottage cheese cubes in Manchurian sauce
Seafood Manchurian – Fried fish or fried prawns in Manchurian sauce
Chicken and Vegetable Manchurian – Fried Chicken and vegetables in Manchurian sauce.
You'll also like
If you enjoy my recipes, I'd love for you to subscribe to my YouTube channel for Video Recipes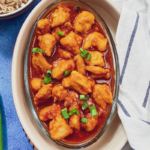 Print Recipe
Chicken Manchurian
Batter fried, golden chicken pieces in a hot and peppery sauce
Ingredients
Chicken Batter
1/2

Kg

1lb Boneless Chicken, diced into 1 inch pieces

2

Tbsp

Flour

1

Tbsp

Corn-Flour

1/4

tsp

Baking Powder

1

tsp

Salt

1

Egg

Oil for deep frying
Chili Sauce
1/4

Cup

White Vinegar

1/4

Cup

Water

3

tsp

Sugar

1

tsp

Salt

2

tsp

Red Chili Powder
Manchurian Gravy
3/4

Cup

Chicken Stock

3/4

Cup

Tomato Ketchup

5

Garlic Cloves

(roughly chopped)

1

tsp

Salt

2

tsp

Sugar

1

tsp

Soy Sauce

1

Tbsp

Oil

1/4

Cup

Chili Sauce

(prepared or store bought)
Instructions
In a prepping bowl mix together the ingredients of Chicken Batter, add the chicken pieces and let marinate for 15-20 minutes

Meanwhile, in a small sauce pan prepare the chili sauce, by adding all the ingredients. Mix well and let cook until the sugar dissolves completely

In a pan heat oil over medium-high flame. Add the chicken pieces, working in batches fry until crisp, golden and cooked through. Remove from oil and transfer to a paper towel lined plate to drain excess oil and keep warm until needed

In a pan add 1 Tbsp Oil and stir fry chopped garlic until fragrant. Add the fried chicken pieces to it and mix. Add soy sauce, chilli sauce, salt and sugar and cook for about 1-2 minutes.

(be careful with the salt, because we are adding soy sauce and chicken stock too)

Now add chicken stock, bring to a boil and then add tomato ketchup. Mix well, taste check and adjust seasoning. Bring to a boil and let simmer for some time. The sauce will gradually start to thicken.

Dish out on the hot plate or serving dish

Serve with steamed rice,vegetable fried rice, noodles or pasta
Notes
To Thicken the Gravy –  I don't use cornflour slurry to thicken the sauce. but if your sauce is too runny you can add cornflour slurry by combining 1 Tbsp cornflour to 1/4 cup water. Add this to the sauce and thicken to desired consistency.
A healthy alternative to Fried chicken – instead of deep-fried chicken, use baked chicken or air-fried chicken.
Vegetarian Manchurian- Swap chicken with Cauliflower florets. Make a thin consistency batter (don't use egg) dredge florets in the batter and deep fry. You can add other stir-fried vegetables or baked cauliflower florets too. For the sauce, use vegetable stock in place of chicken stock.
Gluten-Free Chicken Manchurian – swap flour with rice flour or gluten-free flour. Use gluten-free soy sauce in place of regular soy sauce.
Note: This recipe was originally published in February 2015. It has been updated with new photos and detailed instructions.
For your Pinning Pleasure