Lotus Biscoff lovers, here's a birthday treat from me to you! A creamy, luscious cheesecake filling, chewy chocolate brownie, whipped cream and lots of lotus biscoff biscuit in every bit. It's the ultimate Lotus Biscoff Cheesecake brownie trifle – easy to make decadent dessert.
While Lotus is Europe's favorite biscuits and is served mostly with tea and coffee, people here have gotten over the craze. But back home in Pakistan, it's enjoying the hype and stardom status. Just like Nutella enjoyed it once upon a time.
During my recent trip to Pakistan, I was amazed at how Lotus Biscoff biscuits are being used in just about everything from Lotus cheesecake to Lotus ice cream, Lotus dessert jars, Lotus Pull Me dessert, Lotus Malt Cake, Lotus Lava Cake, Lotus cookie skillet. You think of something and probably it's already out there, just like these Lotus Thootiyaan – a fusion dessert of Pakistani rice pudding topped with lotus biscoff crumbs. So, now you can imagine the lotus biscoff craze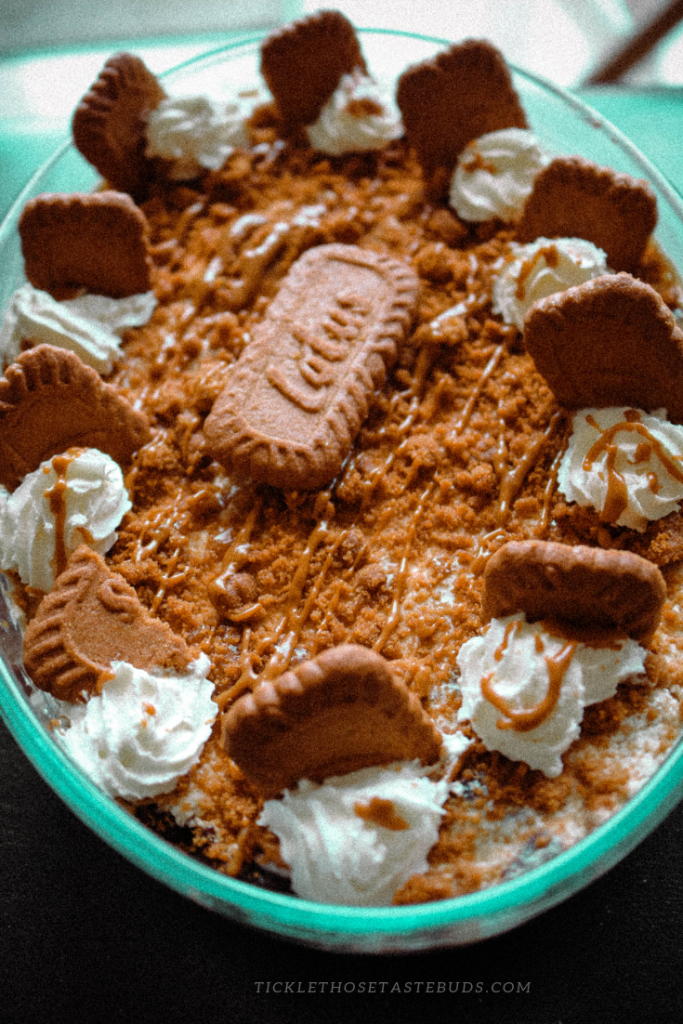 Coming to the dessert, honestly, I'm not much a dessert-making person. I love having desserts when someone else has made them, that is. Anyhow, this lotus biscoff cheesecake brownie trifle is one the easiest and the most delicious desserts EVER.
With not much-added sugar, it's all about mixing of ingredients and assembling the dessert and that's it. And of course, making it look pretty too. The textures are a mix of creamy, crunchy, chewy and biscoff-y dessert – all in one!
Highlights of the Lotus Cheesecake Brownie Trifle
A chewy chocolate brownie base
A creamy, airy and luscious lotus flavored cheesecake filling
A layer of melted lotus spread on the top
A generous spread of lotus crumbs
Now that is a lotus biscoff explosion, isn't it? Taste of lotus biscuit in every bite making it an irresistible dessert, ready to dig in?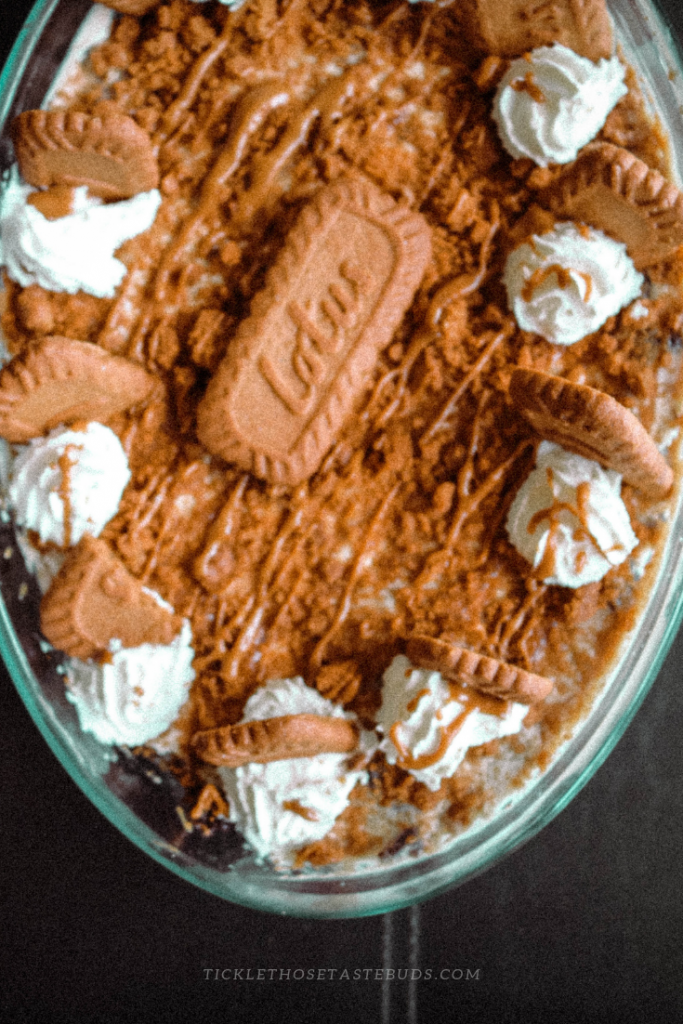 How to Make Lotus Cheesecake Brownie Trifle
So, to get started with this dessert, first, you need to make the brownie base. I took a shortcut here and used Betty Crocker Fudge brownie mix, love these. If you have favorite brownie recipe don't hesitate to use that but if you are pressed on time using a brownie mix is the best way to go
The next step is to make the cheesecake filling. Again, super-easy. The base of the cream cheese filling is cream cheese and whipped cream combined however the biscoff flavor comes from the Lotus Biscoff Spread and vanilla essence combined.
For the topping, simply melt the lotus biscoff spread in the microwave for 30 seconds and your sauce is ready, it's just so good!
The final thing is whipped cream. For that, all you need is heavy whipping cream and some powdered sugar. Whip it up until soft peaks and its ready. You can also use store-bought whipping cream can as a short cut.
You'll also need coarsely crushed biscoff cookies for topping.
Ready to assemble and serve?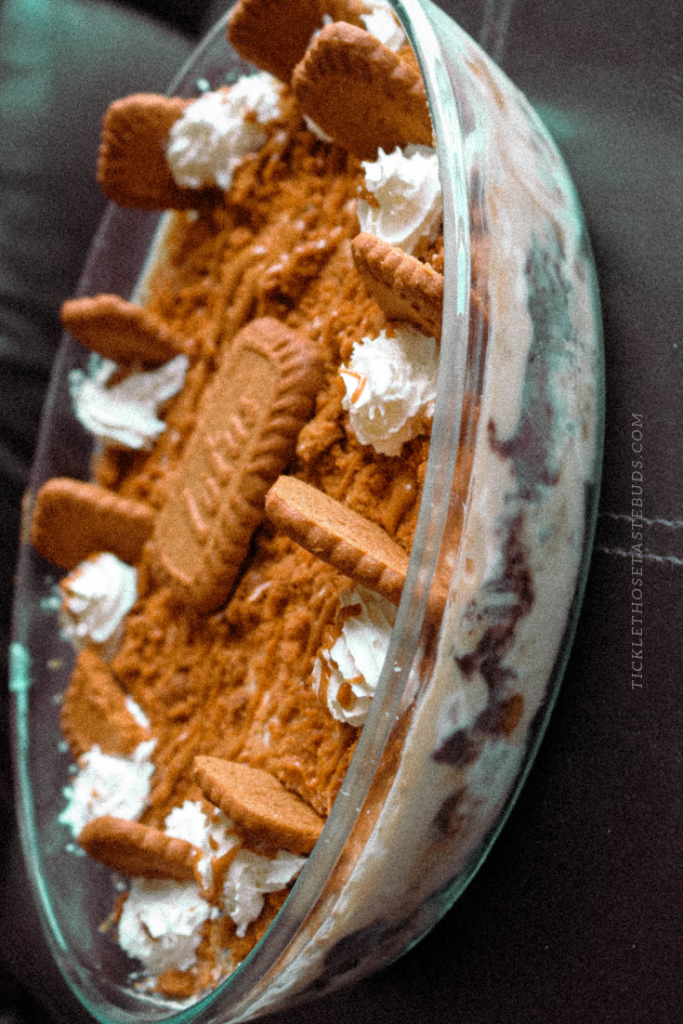 How to Assemble and Serve?
Assembling the cheesecake brownie trifle is easy. All you have to do is layer the prepared items. But you'll have to do that in the dish you'll be serving the dessert – the serving dish.
Start by cutting the brownies in bite-sized pieces and spreading them on the bottom of the dish. Top the brownies with prepared cream cheese filling. Layer it with whipped cream and cookie crumbs on the top.
Repeat the layering until the dish is full making sure the top layer is whipped cream. Cover the dish with cling film and refrigerate for 3-4 hours or overnight preferably.
To serve, sprinkle some cookie crumbs on the top and drizzle some biscoff spread. Decorate with whipped cream and biscoff cookie. Serve immediately
This lotus biscoff cheesecake brownie trifle is a crowd-pleaser. It is easy to make and a delicious make-ahead dessert too. You can't go wrong with this one, it'll be an instant hit!
You'll also like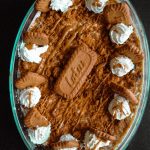 Print Recipe
Lotus Biscoff Cheesecake Brownie Trifle
Ingredients
1

box

Fudge Brownies Mix

(Betty Crocker)

1

cup

Cream Cheese

4

tbsp

Lotus Biscoff Spread

1

tsp

Vanilla Essence

1/2 + 1

cup

Whipping Cream

2

tbsp

Powdered Sugar

15

Lotus Biscuits
Decorating
15

Lotus Biscuit Crumbs

4

tbsp

Lotus Biscoff Spread

(melted)

Whipped Cream

Lotus Biscoff Cookies
Instructions
Prepare the brownies according to package instructions. Allow to cool completely

Prepare Cheesecake Mix: In a bowl add cream cheese, biscoff spread, and vanilla essence. Mix it together using a whisk or a hand blender.

In another bowl, whisk ½ cup whipping cream until soft peaks form. Add the cream in the cheese-biscoff spread mix and fold it together gently, until well combined.

Prepare Whipping Cream for Layering: In a bowl add the whipping cream and powdered sugar. Whisk on high speed until stiff peaks form

In a small bowl melt 4 Tbsp cookie butter in microwave for 30 second. It should be a little runny in consistency

Coarsely crush the lotus biscuits into crumbs
Assembling
In a serving dish add:

Layer 1 – fill the base of the dish with brownies cut into bite-size pieces. Drizzle melted biscoff spread on the brownies

Layer 2 – On top of the brownies add a layer of cheesecake mix

Layer 3 – Then add a layer of whipped cream and top it with cookie crumbs.

Repeat the steps one more time or till the dish is full. The top layer should be whipped cream.

Cover the dish with cling film, keep in the refrigerator and allow to chill for 3-4 hours or overnight before serving.
How to Serve
Before serving add a final layer.

Final Layer – Add cookie crumbs and drizzle some melted biscoff spread. Decorate this layer by piping whipped cream on top and adding lotus biscuits on the cream.
By the way, if you enjoy my recipes, I'd love for you to subscribe to my YouTube channel for Video Recipes.
For your Pinning Pleasure